When to Advertise on Yelp and Make a Killing
Is Yelp a good place to advertise my business? What kind of ROI should I expect? How to advertise the smart way. Can national businesses benefit from advertising on Yelp? Different Yelp Advertising programs, what's the difference? Here you will find answers to these questions and much more…
First things first – Yelp is only for local businesses, or is it?
There's a well-known saying, it goes something like this; "a sign of intelligence is the ability to hold two contradictory ideas in your head at the same time and then deduce something useful from it." That's my version anyway.
Online advertising and SEO is full of these contradictions, advertising on Yelp is no exception. On the one hand; advertising on Yelp is strictly for local businesses.
On the other; advertising on Yelp can work really well for a lot of national businesses.
Something useful; Yelp is all about local. If you are a local service provider like a plumber, attorney, specialist doctor, contractor, or if you are a store, restaurant or nightclub, Yelp can be great for increasing your visibility. The thing to recognize though is that it's all about local searches rather than necessarily just local businesses.
We have several clients that are national in coverage but at the same time they have a number of cities that they like to specifically target due to the particularly strong markets for their products and services in those cities.
Here are some examples. A wine rack supplier using sub-contractors in certain cities where the market is strong for residential wine cellars. They use their contractors' addresses for the listing in Yelp. As they are providing a real local service within a coverage area of the address this is a great way to increase their visibility. Other examples are a sun-room builder, a traveling photographer and a SEO services provider.
The distinction between a local business and a local search is simply this; if the products or services you provide naturally generate localized searches, then creating and advertising a business listing in Yelp can work to your advantage.
What is a localized search?
A localized search is one where a significant number of people will add a city name to their search. For example the search "wine cellar builder" might also be input "wine cellar builder Los Angeles". This is because the searcher is looking for a company local to where they live. Wine cellar builders will often actually be located in a single city but also have sales people, or subcontractors, in a number of major cities. The same can be true for a wide range of national companies.
What's better, ranking organically or advertising on Yelp?
Listing your business in Yelp is clearly step one. A lot of small business owners do nothing more than put a basic set of details in their Yelp listing. They then naively expect their listing to rank at the top of a list of a lot of other companies also expecting to rank at the top.
They then become frustrated when this does not happen, sometimes going as far as to suggest that Yelp is playing favorites in some way.
To rank at the top of a Yelp listing you need to be smarter than that, you need to be smarter than your competition.
It should be pointed out that a lot of larger organizations also make this mistake.
One of the critical factors that affect how well a listing ranks organically in our experience, is whether that listing gets traffic and whether that traffic is sticky. "Sticky" means whether the searcher stops searching and clicking on other listings after finding yours. In other words, they find what they want.
The problem though is a catch 22 problem. Ranking brings traffic but traffic brings ranking. Albeit providing it is sticky traffic. So how do you get the traffic if you are not already ranking? Well by advertising of course!
While officially, advertising does not help you to rank, the effect of advertising is increased traffic. Traffic of the sticky kind does help you to rank.
Advertising on Yelp can therefore be used as a way to improve organic ranking.
You'd better make sure though that your listing is a good one and that your ad is designed only to bring the right kind of traffic. If these are done poorly, and the traffic does not stick, they can actually have a negative effect on your overall visibility.
It's no surprise therefore that we recommend that you get professional help with your Yelp campaigns. Call Holistic Web Presence today +1 (801) 349-8226 and drive your visibility up.
What About Results?
What kind of results can I expect if we get all this right? Every website and local business is different with differing levels of competition.  Therefore there is no way for us to provide a definitive answer to this question that would apply equally to every business owner.  What we can do is to provide examples of success from clients who have gone from, 'getting poor results' to the "making a killing" level.
Does Yelp Practice a Form of Extortion to Get Your Advertising Dollars?
A considerable number of business owners have made this accusation. Let's first take a look at why.
Yelp allows any legitimate business to create an account and list their business there for free. The first thing we need to ask is, why? Why would any company, assuming they are not a charity, create a complicated website and provide a free service like this?
Understanding the motivation behind these kinds of websites is key to understanding, at a deeper level, how to better make use of them to promote your own business. Yelp are just one of a very large number of websites that allow you to list your business.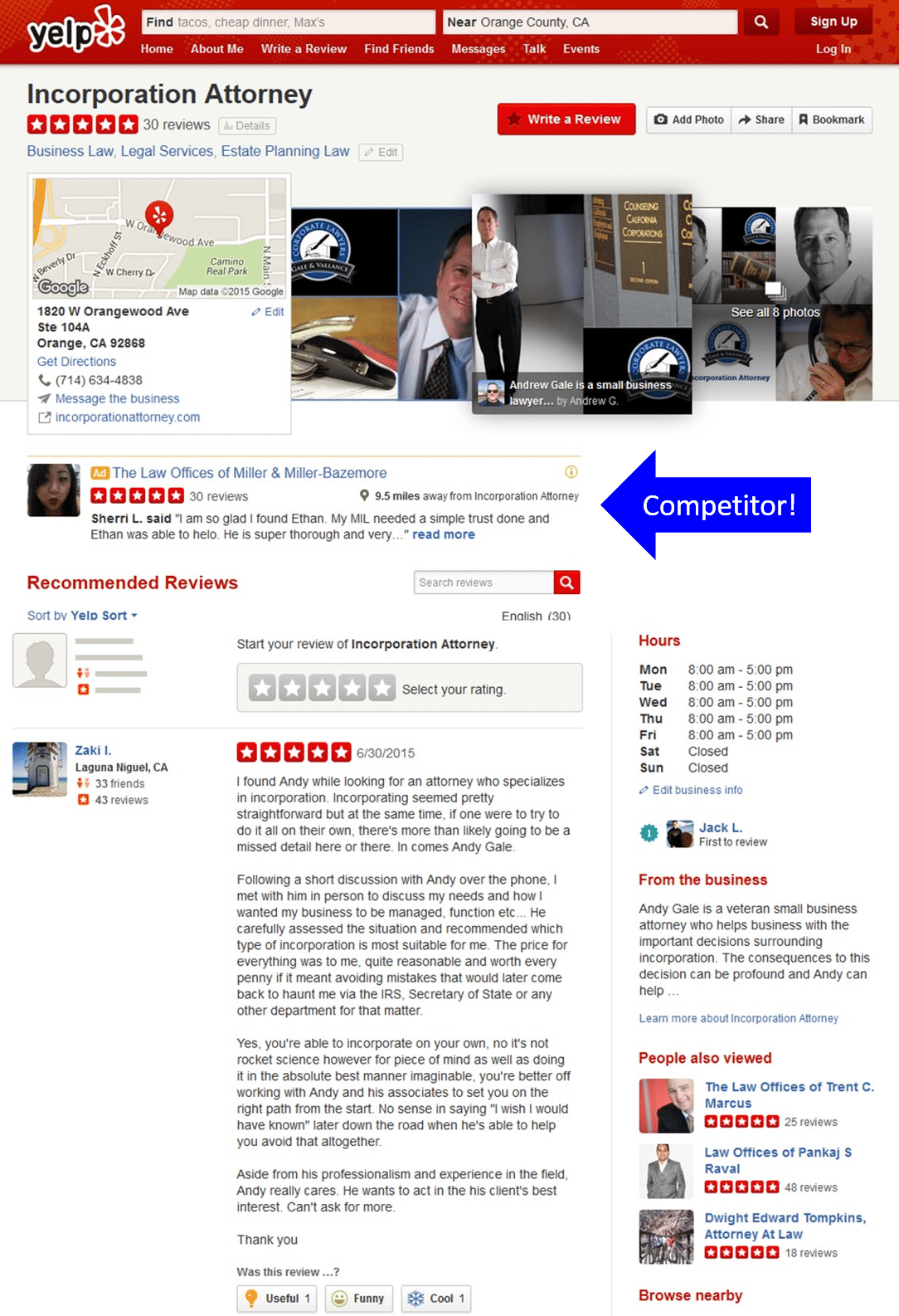 Here are a few examples of other listing sites.Manta, Superpages.com, Dexknows.com, Yellowpages.com, Foursquare.com, Hotfrog.com, bbb.org, Angieslist.com, Yellowbook.com, Local.com, Insiderpages.com, Yellowbook, CitySearch, MapQuest/Yext, KSL.com, CitySlick, Brownbook.
Even the major search engines do this, for example Google Places for Business and Bing Places.
Note: this is nowhere close to a definitive list, we have over 500 local listing sites in our database.
They all however have one thing in common, they provide a free business listing service. They also all have a revenue generation mechanism.
In most cases, their revenue generating mechanism is simply to provide a basic listing for free and then try to up-sell you on an enhanced listing of some kind.
While they all have a unique approach as to how they try to up-sell and generate revenue, they all do it.
Yelp are simply one of the most successful and most used of these services.
The aspect of their approach to up-selling businesses to an enhanced listing, that occasionally gets them accused of extortion, is that if you do not advertise with them, they will place the ad of another company smack in the middle of your listing!
What ad shows up there is based on relevance, so by definition it will usually be one of your competitors.
On the other hand if you sign up on one of their advertising programs, that competitive ad will be replaced with a customizable call to action for your business and a link to a specific relevant page on your website.
In other words, in return for participating in their paid advertising program, your listing is enhanced and your competitor is removed.
It's worth mentioning that when you do advertise with Yelp, you gain even more additional benefits. Your ad will show up at the top of a range of relevant searches and it is very possible that your ad will show up in your competitor's listings.
Is This Extortion?
Is it extortion to say, "We will put your competitor's ad right in the middle of your listing if you do not pay us money"? We will leave you to be the judge of that.
Whatever your opinion, it is their website. You do not have to list your business there in the first place. However if you do, we believe it pays to go just a little step further and make sure your business is as highly visible as possible. Enhancing your listing with a little paid advertising is therefore a good investment.
It's all about the Yelp Reviews Baby!
Coming soon…
Annual Contracts and Pay as you go – What's the Difference?
Coming soon…